More than 30 million adults may use an app to order groceries by 2022. This is enough to know that e-grocery business is one of the strongest in this economy.
This blog includes information for e-grocery delivery startups & entrepreneurs. Check out the topmost reasons, which would help you to decide to develop an on-demand grocery delivery app for your grocery business. Let's check it out
Introduction
People might not like to go to the grocery store to shop for groceries because of spending a lot of time collecting the groceries and waiting in a long queue for the billing. But, it is nothing more than a hassle. And, shoppers are increasingly moving towards grocery shopping and grocery list apps for different purposes.
One of them is that such apps also provide info about a food shop near you of various food items. Undeniably, shoppers have become more comfortable shopping online, and groceries are part of it. Even there are apps like Dija and Getir that offer 10-minutes delivery.
These apps promise to deliver your groceries within 10-minutes. To guarantee speed and reliability, ultra-fast delivery startups organize their delivery as per the needs of the customers. As per the demand, they store the groceries in the dark store. The dark store helps in storing groceries (everything from canned goods to fresh produce) near the location of the customers.
On the other hand, grocery-delivery apps like Instacart, AmazonFresh, Walmart grocery app, and Google Express allow users to shop their favorite and essential grocery items online, and it can help them to save time and cut costs.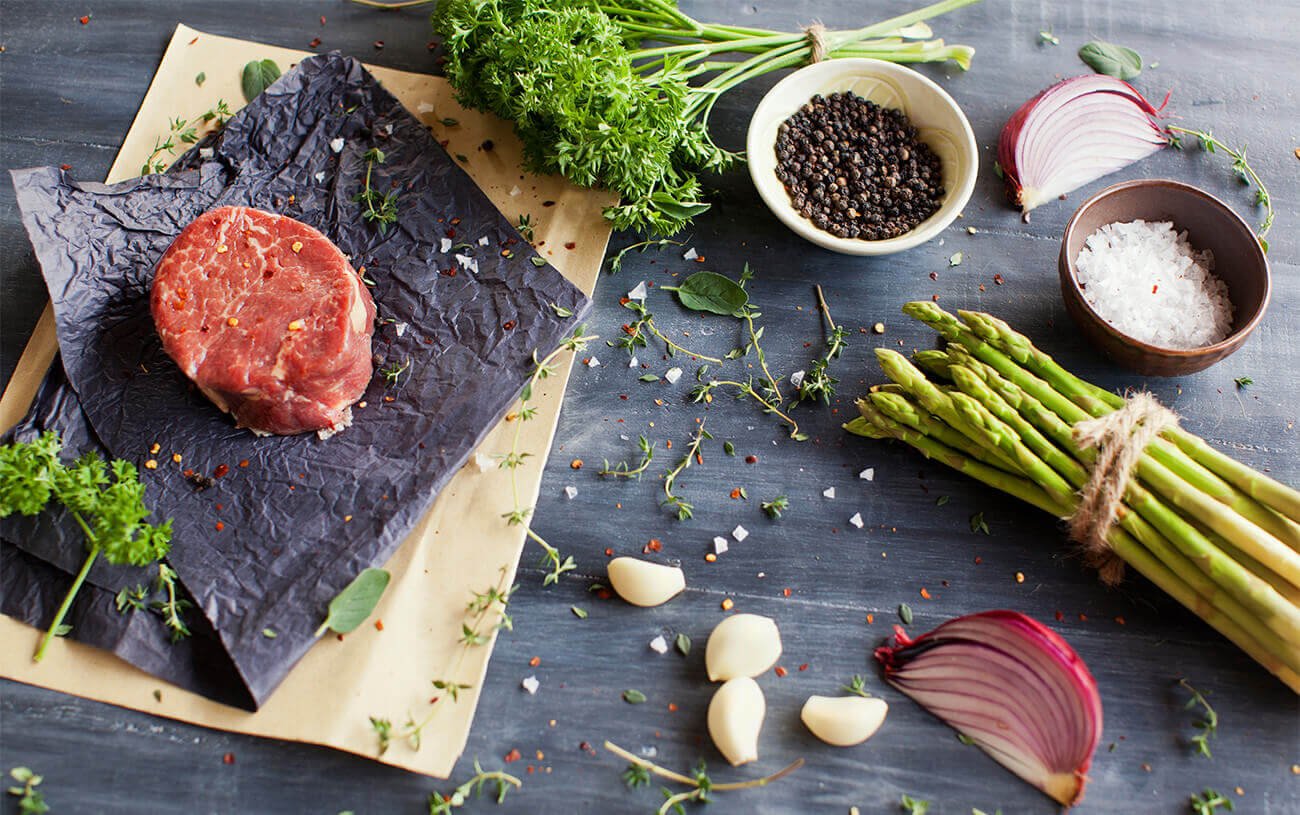 Before jumping to the features and reasons for developing an on-demand grocery delivery app, let us quickly go through with the latest trends, facts, and statistics of the grocery ordering app sector.
Insights: Stats, facts & trends
When it comes to online shopping, the on-demand grocery-delivery apps are in high demand. Checkout complete retail mobile app development guide for retailers to bring their retail app idea to life. Below are the statistics on the frequency of mobile retail apps usage according to smartphone shoppers in the USA as of April 2020.
Uber for Grocery Delivery: In this image, you can see the craze of the keyword "Uber for grocery delivery" over time, and this is what you can see in this image.
Source: Google Trends
Millions of people use grocery-delivery apps like Instacart, AmazonFresh, FreshDirect, and Google Express. According to the report from CB Insights, grocery delivery services are raising more money as compared to meal delivery companies.
The U.S. Online Grocery Sales: It is amounted to about 17.5 billion U.S. dollars in 2018, and it is expected to grow to nearly USD 30 billion by 2021 and USD 60 billion by 2023.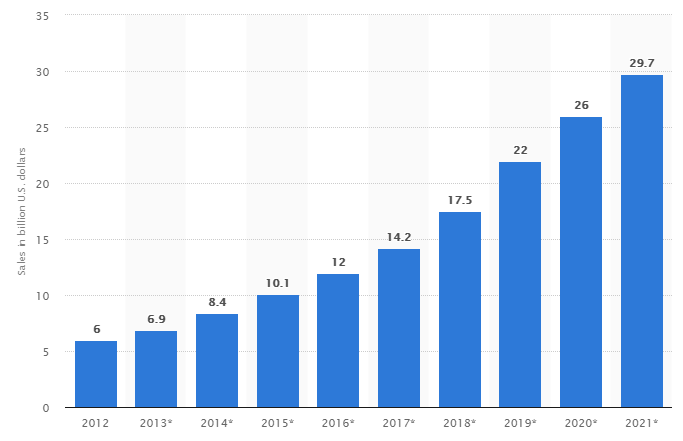 Source: Statista
Why E-grocery Delivery Startups Need an On-demand Grocery Application in the USA?
The Rise in the Usage of Grocery-Delivery Applications: Grocery-delivery apps have created a buzz in the world of the on-demand economy, especially in the United States. Well, there is good news for all those startups, who have been planning to create grocery-delivery apps for their grocery businesses. Well, long story short, grocery-delivery apps are experiencing considerable growth in the United States.
According to the latest news, San Francisco-based Instacart is bringing its online grocery delivery to the Pittsburgh area starting Thursday. The company is providing the service, whereby personal shoppers gather, pack and deliver orders of groceries, to customers of Shop'n Save, Aldi, Costo, Sam's Club, Fresh Thyme Farmers Market.
Effect of COVID-19 on grocery-shopping
In-store shopping is no longer as easy as it used to be. With the outbreak of COVID-19, pandemic people need their groceries delivered directly to their homes, safely. In combination with purchasing pantry staples, home goods, meal kits, and whole foods, e-grocery businesses are also witnessing a rush for various household items requests.
With the people practicing social distancing and shutdowns being implemented in various parts of the world, the concept of "contact-less" deliveries has been invented which includes making grocery deliveries via autonomous drones.
Coronavirus has not been kind in other sectors but on-demand grocery deliveries are seeing a positive effect. It is one of the only sectors that have the potential to grow even in this economy.
The usage of grocery-delivery apps is exponentially growing
According to the latest report from eMarketer data, "The grocery-delivery application usage has increased 50% in 2018. It also states that 18 million adults in the United States will use a grocery application at least once a month in 2018, and up 49.6% over last year.
The key takeaway is that grocery apps are one of the fastest-growing mobile apps in the United States. However, the growth is continued the next year as well i.e. 2019, more than one in five adult smartphone e-commerce buyers will use a grocery app to order food.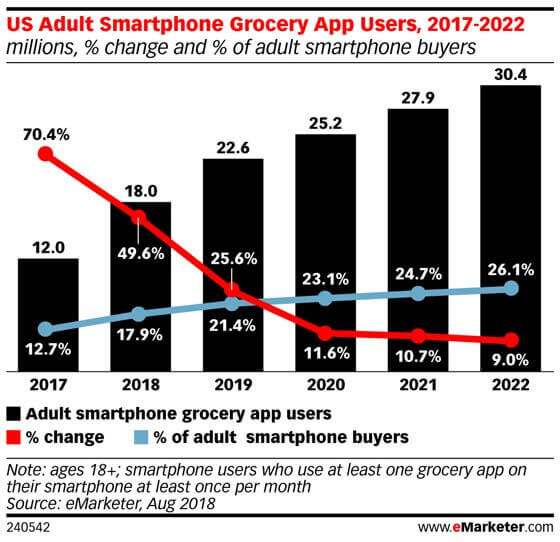 Online grocery delivery is one of the fastest-growing online categories. Also, the grocery-delivery giants like Amazon, Kroger, and Walmart are investing in a number of initiatives around on-demand delivery service. As they are figuring out to be more efficient with fulfillment, costs for consumers will come down.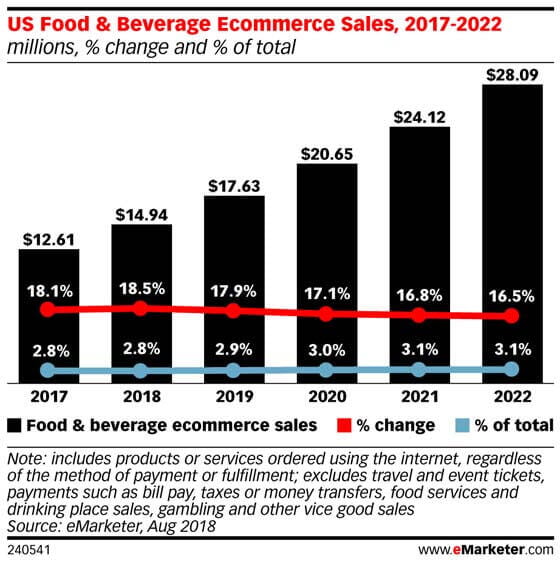 Based on the analysis of all top on-demand grocery-delivery apps like Instacart, Shipt, Kroger, and GrubMarket, we have curated 3 must-have features, which you need to consider during on-demand grocery-delivery apps development.
Want to Create Grocery-delivery App?
Get your free consultation now.
3 Must-have Features of On-demand Grocery Application
Search

One of the biggest advantages behind on-demand grocery-delivery apps is convenience. The search is one of the central features to deliver convenience to your app users. You as a startup need to make sure that it is simple and easy to use to browse required grocery items from the app. This core feature needs to be simple.

That is being said offering a simple and easy-to-use search feature, means that offering a powerful search experience to your app users. It will provide ease to your app users and you can gain loyalty for your grocery-delivery business.

Image Source: Kroger

Therefore, being a startup or entrepreneur, if you want to develop an on-demand grocery-delivery app, then such a feature is highly recommended to provide your app users to find products easily and quickly. Well, the easiest search feature can help your users to stay long with your grocery-shopping app.

GPS Real-time Tracking

The next core feature is to allow your app users to track the delivery in real-time. Technically, this core feature is known as GPS real-time tracking. And again, this feature provides your app users with ease to track their orders in real-time. The Uber for grocery app, Instacart has already set the standards to deliver ease to its customers via offering the real-time tracking feature, which allows them to track their orders in real-time.

Image Source: Instacart

Well, this feature is basic yet pivotal, which you can't miss integrating while developing an on-demand grocery app like Instacart. The very first thing is to allow the user to track the delivery status, and he/she will get updated about his/her order. The GPS real-time tracking feature is useful for both users and delivery people as it helps to get the live updates of their purchased items.

Schedule The Delivery & Quick Reorder

The next important feature is to allow your app users to schedule the delivery in advance or as per their convenience. It is also recommended that the quick reorder feature can be also helpful for those who are in a rush. This feature allows them to order online of their past ordered products in just a few minutes.

So, such features like schedule the delivery and quick reorder will surely help your app users to stay long with the grocery-delivery app. Furthermore, you can also provide other features like "coupons & discounts", where app users can get discounts on their favorite products.

Image Source: Instacart

So, to make it easier for your app users, you can provide them with such useful features, which can make their processes seamless and they would find out easy-to-use.
Top 4 Grocery Delivery Apps
Here are the best four grocery delivery apps in the market.
Name Of The App
Features
Play Store Link
App Store Link
Instacart

Exclusive coupons and deals on the products
Create shopping lists and reorder items
View nutrition info and filter by gluten-free, organic or vegan diets
Tag favorite items for easier shopping

Shipt

Browse local stores and add to shopping cart
Create shopping lists to save time
On-demand alcohol and beer delivery
Add details for every item including vegetables to be shopped

Kroger

Select delivery, pick-up, shipping options
Search and filter products by delivery fees
Find deals and offers on products

Dunzo

Get food, drink, medicines, grocery, cleaning supplies delivered
Also, book a bike or taxi on the app
Check delivery time and track rider
Reviews
Intstacart
Instacart, headquartered in San Francisco, operates a grocery-delivery and pick-up service in the United States and Canada. The company offers services via a website and mobile app in 5,500 cities in all 50 U.S. states and Canadian provinces in partnership with over 350 retailers that have more than 25,000 grocery stores including Albertsons, Aldi, Costco, CVS Health, Eataly.
Pros
Cons

Good customer service
Option to pick-up from store to save delivery charges
Can chat with your Shopper right in the app

Out-of-stock items are listed
Don't have separate carts for delivery and pickup from the same store
Payment and receipt issues
Shipt
Shipt is an American delivery service owned by Target Corporation. It is headquartered in Birmingham, Alabama. Shipt was founded and initially funded by Bill Smith. The company soft-launched in November 2014 in Birmingham, Alabama with 1,000 pre-enrollment customers and officially launched in Birmingham in May 2015. In March 2019, Shipt named Target veteran Kelly Caruso as its new CEO, succeeding founder Bill Smith, who will continue with the company in an advisory role.
Pros
Cons

Contactless deliveries during quarantine time
Provide same-day delivery of products
Health and fitness tips are available on the app

No in-app chat feature available
Errors in adding items to the list
Paid delivery subscription or membership to check availability of something
Kroger
Kroger is an on-demand best grocery list app that has over 300K downloads (March 2020). The Kroger Company, or simply Kroger, is an American retail company founded by Bernard Kroger in 1883 in Cincinnati, Ohio. It is the United States' largest supermarket by revenue ($121.16 billion for the fiscal year 2019). In October 2018, Kroger announced online wine delivery to 14 states in partnership with DRINKS.[63] Customers can select assorted wines in 6-bottle or 12-bottle packs.
Pros
Cons

Contactless deliveries making shopping safe
Night mode is available on the app
Great deals and offers

Issues in authorization and logging in
Fewer product options available
Issues in the confirmation of orders
Dunzo
Dunzo started out as a small WhatsApp group and transformed into a hyperlocal, app-based service. Dunzo raised its first round of funding of US$650k in March 2016 from Blume Ventures, Aspada Ventures. In December 2017, Dunzo received US$12 million in a fresh round from Google, with existing investors, Blume Ventures and Aspada participating in the round.
Pros
Cons

Home delivery in 45 minutes
Also delivers meat and pet supplies
You can also deliver packages across the city

The app is buggy sometimes
Closed stores are displayed
Lacks good customer support
Frequently Asked Questions
Which unique features can help your delivery business during coronavirus circumstances?
Unique features to help your grocery-delivery app during coronavirus are as follows:
Contactless carryout
Contactless delivery
Online or digital payment gateway integration
Virtual assistance
Chatbots and in-app calls
Emergency care kit
How to safely take your order during the coronavirus outbreak?
The simple answer to this question is contactless delivery or contactless carryout. The delivery personnel keeps the order at the front door or the delivery guy awaits the customer's arrival at his place maintaining a safe distance to avoid the virus to spread.
How much does it cost to develop a grocery-delivery app?
The delivery application cost depends upon the functionalities and features that you want to integrate into your application. The time consumed to integrate features in your application also depends on the complexity of the features. The hourly rate of the developer is obviously a factor that needs to be taken into account, all this combined decides the cost of the development process. With the help of this simple formula you can calculate the cost:
Development time X Cost per hour = Total app development cost.
Which grocery delivery apps promise 10-minutes delivery?
What are the best ways to make a profit out of the grocery delivery business?
You can avoid challenges of the grocery delivery business with these tips and gain profit, such as maintaining perishable goods, warehouse operations complexity, data processing, and branding. Let's have a look:
Stock less items to avoid damages
Buy products on wholesale prices
Charge for delivery
Wrapping Up
If you as a grocery delivery startup, have not yet decided to build on-demand grocery-delivery apps like Instacart and Kroger, then it is high time to develop an on-demand grocery app. This is due to the fact that the usage of on-demand grocery shopping apps is high in the United States. And, we have also mentioned must-have features, which you can integrate during on-demand grocery-delivery app development.
Having an app idea, which you think can be a big hit in the niche of on-demand grocery-delivery? Then, you can cross-verify it with us as we are a leading Android/iPhone app development company and have already developed over 60 on-demand apps like Jabrool and Lacy with diverse features and functionalities like GPS real-time tracking, multi-lingual support, cross-platform ability, and payment gateway integration.
In case, if you still have any query or confusion regarding grocery-shopping app development or app development cost of on-demand grocery delivery apps like Instacart, Kroger, and Shipt, Indian app developers cost, how long does it take to create a grocery-delivery application, then you can get in touch with us through our contact us form. One of our sales representatives will revert to you as soon as possible. The consultation is absolutely free of cost.